Wildlife Safari to Zambia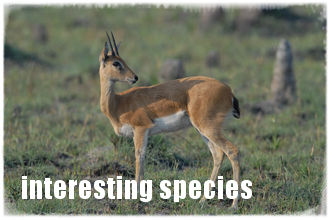 Zambia remains one of Africa's most wild safari destinations with very few visitors. Though this is slowly changing, you can still experience fantastic wildlife viewing in Zambia's remote parks led by some of the best camping safari guides in Africa.

Consider a very comfortable safari to Zambia to seek out wildlife in the fascinating South Luangwa National Park. You'll stay in very comfortable tented safari camps and lodges in one of Zambia's best wildlife parks whilst travelling with a very knowledgeable guide. Many of our wildlife safaris just touch on Zambia with a visit to Livingstone and the Victoria Falls. Along with one of the wonders of the world you'll find a host of adrenaline activities, more sedate excursions, colonial history, terrific curios and interesting markets in this small corner of the country.

Wildlife safari options, travelling with a small group, are currently fairly limited in Zambia. We are working with our colleagues in Africa to rectify this and hope to be able to soon bring you more variety of Zambia wildlife safari adventures to choose from.