Safaris to Central Kalahari Game Reserve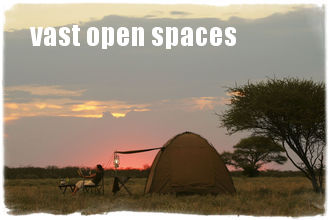 Despite what is said, the Kalahari isn't a desert at all. In fact it's a vast sand-sheet, a fossil desert, now largely covered in bushes, trees and grasses. Most of the Kalahari remains arid and untouched, as it has been for about 65 million years. Whilst on safari here you'll be struck by the feeling that you're light years away from modern life.

There are many special sights in the Kalahari. In magical places you can pick up tools last handled in the Stone Age, marvel at the sense of space, look around at the earth's curvature, or - occasionally - see vast herds following ancient migration routes. It's a fascinating place, but above all the Kalahari is a wilderness; that's what captivates us about it.

The Central Kalahari Game Reserve is the ultimate in 'remote' safari destinations. It covers over 50,000km2, most of which is inaccessible. Until very recently it was closed to the public, although there have always been small groups of Bushmen living here. Many know the area from Cry of the Kalahari, a great book written by adventurous American biologists researching in Deception Valley.

The Central Kalahari is at its most enticing when travel there is most difficult: in the first few months of the year. At this time, the beautiful inter-dune valleys flush with green, attracting thousands of springbok and gemsbok. You'll also find ostrich and giraffe, herds of wildebeest, the occasional cheetah and the Kalahari's famous black-maned lions. Leopard and brown hyena are also common residents, though are rarely seen. Many of our small group comfortable camping and luxury lodge Botswana wildlife safaris have departures scheduled to make the most of this window of opportunity.