Safaris to the Okavango Panhandle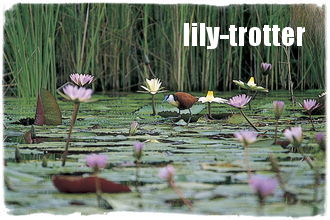 The Okavango Delta in Botswana is said to be shaped like a large frying pan, with the main river that feeds the Delta forming the handle to the north-west - that's where this area gets its name. The Okavango River flows from the Angolan Highlands, across Namibia's Caprivi Strip and south into Botswana where it floods the Kalahari basin to create the Okavango Delta.

A tar road running along the western edge of the Okavango Panhandle makes this area relatively accessible, although it is still very rural with only a smattering of villages found along the riverside. The landscape in this part of the Kalahari is very influenced by the Okavango River which meanders gradually southeast between its banks. Its passing forms a series of wide sweeping curves, the odd oxbow lagoon and shallow lily-filled pools further south where it begins to branch out to form the Delta. Although the Okavango Panhandle is not a prime game viewing area, visitors are likely to see hippos and crocodiles and may also be lucky enough to catch a glimpse of the elusive sitatunga antelope or a pair of frolicking otters. The deep water channels, tree islands and floating papyrus reed beds are also home to a wide variety of colourful birdlife.

Some of our Namibia and Botswana safaris spend a few nights in the Okavango Panhandle, exploring its watery paradise and lush landscapes by boat or mokoro (traditional dug-out canoe).