Camping Safaris to Africa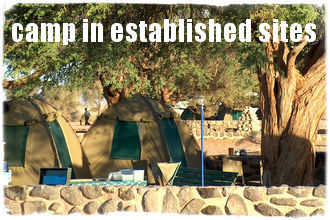 By camping for much of the time, simple camping safaris offer the best of Africa at a very reasonable cost. If this conjures up unpleasant images of boy scouts under battered canvas in damp drizzle, take it from us that camping safaris in Namibia, Botswana, Zambia and Tanzania are very different.

Camping safaris to Africa are a great way to maximise your time outdoors. Each safari is led by a professional guide, who also acts as your driver. The other important person on many of these camping safaris is the assistant. Whilst we may ask you to put up your own tent, the camp assistant will take care of most other camp chores, leaving you and your guide more time to relax and chat about your camping safari experiences.

Good-quality camping equipment is supplied on camping safaris to Namibia, Botswana, Tanzania and Zambia in Africa, including two-person igloo-style tents, comfortable foam mattresses with sleeping bags or bedding, and camp chairs. Bathroom facilities on these camping safaris are often shared but there's almost always hot water available! Transport for these camping safaris is usually in a specially adapted vehicle with large windows from which to enjoy the sweeping vistas, an often a pop-top room for optimised game viewing.