Conservancy Safaris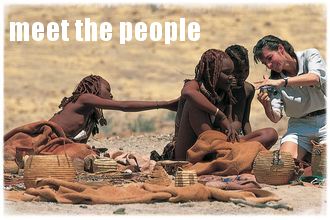 Namibia is a shining light when it comes to community involvement with conservation. It was the first country in Africa to include in its constitution 'protection of the environment'. Since then, the government has gone on to give communities the opportunity and the rights to manage their wildlife through communal conservancies.

Communal Conservancies now cover nearly 20% of Namibia, mostly prime wildlife habitat. There are joint-venture lodges and campsites operating within these conservancies as well as one - Etambura Camp - which is solely owned by the local the local Himba and Herero people.

The safaris below focus on remote north-west Namibia, and have a special link with the communities there: all are run in conjunction with a company which is owned by the local communities themselves. These offer much more than a just a 'standard safari'; they give you an insider's view of community-based conservation. Not only will you see Namibia's stunning scenery and amazing wildlife, you will also learn how the wellbeing of semi-nomadic Himba and Herero people and wildlife are linked.

Depending on which safari you choose you will search for black rhino, learn about desert lions, or perhaps go on a plant trail with Himba women. You will spend quality time with your Herero and Himba conservancy hosts and gain insights into the highs and lows of living together with wildlife in this arid and harsh environment.