Lodge and Camp Safaris to Africa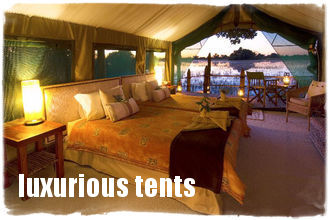 If you are looking for a very comfortable guided safari to Africa, but without the basic camping, consider our Lodge and Camp Safaris to Namibia, Botswana, Tanzania and Zambia.

You'll be driven around by a professional tour guide, staying at some of Africa's best luxury lodges, smart safari camps and comfortable mobile camps. The luxury tented camps used in these tours have huge tents with stylish fittings and en suite bathrooms. The comfortable mobile camps use spacious dome tents with twin beds and an en suite bathroom. Many of the tented safari camps are situated in private reserves allowing you and your tour group an almost exclusive experience, only sharing this part of Africa with the resident wildlife and/or local tribe. The lodges may vary is style depending on the tour; sometimes they are small and intimate, with lovely food, a personal welcome and great service; occasionally they are larger hotel style properties chosen for their location.

Your guide will stay with you throughout the Lodge and Camp Safari, joining you during your meals when you will have time to chat over the day's safari experiences together. Depending on which luxury lodge or safari camp you are staying at on each evening of your tour, some drinks will be included, whilst others will attract an additional charge. Similarly, a laundry service is usually possible; sometimes it will be complimentary, and at other times there will be a small charge.