On safari in Caprivi Strip, Namibia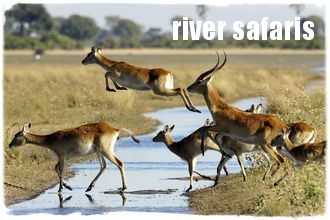 Unlike other regions in predominantly arid Namibia, the Caprivi Strip is a verdant contrast of perennial rivers, floodplains and woodlands. A higher average annual rainfall of 500 to 700mm also makes this a more hospitable environment for pastoralists and traditional villages dot the landscape. In addition to communal land, large sections of the Caprivi Strip are wildlife reserves with three national parks; Bwabwata, Mudumu and Mamili.

The lush habitat attracts a diversity of wildlife, including species such as hippo, crocodile and buffalo not found in Namibia's waterless interior. Elephant migrate through the area in large numbers; predators like lion, leopard and wild dog roam their favourite hunting grounds; herds of red lechwe, roan, giraffe and common impala, as well as the more elusive sable, tsessebe and sitatunga antelope may also be seen on a Caprivi safari. Birdlife thrives here with over 400 species recorded - a colourful array of bee-eaters, kingfishers, storks and raptors to name just a few.

Travellers on safari to the Caprivi Strip are treated to idyllic riverside accommodation settings, captivating scenery and wildlife sightings, exciting safari drives and river cruises and enlightening cultural encounters. Its proximity to neighbouring Botswana, Zambia and Zimbabwe makes it easy to combine these with a Namibia safari including Caprivi.