On safari in Damaraland, Namibia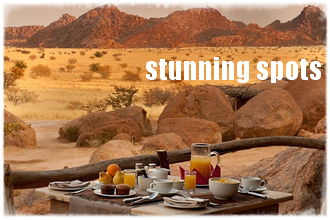 The expanse of semi-desert wilderness in Damaraland is spectacular. Vast sand and gravel plains lie under soft golden grasses, imposing granite boulders and flat plateaus; intersected by ephemeral river valleys with secret springs. A Damaraland safari takes you through some of Namibia's most scenic landscapes.

Damaraland can easily be included into many Namibia safaris, fitting well between highlights like Swakopmund and Etosha National Park. In southern Damaraland, you'll find the huge Brandberg rock massif and its famous White Lady rock painting. Many safaris to Namibia and Damaraland stop here to walk with a local guide who points out bushman rock art in hidden caves.

On safari in central Damaraland, a valley of ancient rock engravings can be explored at Twyfelfontein. Nearby, fossilised tree trunks litter the ground in a petrified forest, and strange rock formations resemble organ pipes. Safari further north, where private reserves encompass the rugged mountains of Damaraland and safeguard desert-adapted wildlife including the rare black rhino and elephant. A Namibia safari to one of the private reserves in the remote northern Damaraland is usually led by an expert guide who leads you across the rugged terrain on foot or by 4WD safari vehicle.