On safari in Kaokoland, Namibia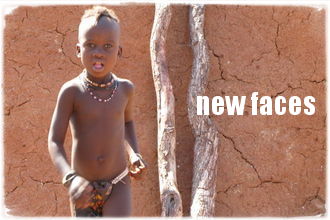 The region of Kaokoland harbours some of Namibia's true remaining wilderness areas. Visited by few safari goers, it is described as one of Namibia's best kept secrets. It is a must for intrepid Namibia safari enthusiasts. With fewer infrastructures than the rest of Namibia and vast tracts of uninhabited land, the region is best discovered with an experienced local guide on one of our Kaokoland safaris.

The perennial Kunene River forms the regions (and country's) northern border, where it cascades over the impressive Epupa Falls. The interior is primarily made up of communal land and private wildlife concessions. The semi-desert landscapes are diverse and spectacular. Flat topped mountains, windswept dunes, basalt strewn plains and mopane woodlands dotted with giant baobabs make up a succession of ecosystems. Ephemeral rivers intersect the region, providing shade and springs for locals, livestock and free-roaming wildlife including desert-adapted elephant, lion and black rhino; various antelope species; giraffe; Hartmann's mountain zebra and much more.

A highlight of any Kaokoland safari is engaging with the fascinating Himba people who have maintained their semi-nomadic pastoralist lifestyle to this day, living in scattered settlements throughout northwest Namibia. They are a statuesque people and the women in particular are striking; adorned with intricate jewelry and covered in red ochre and fat to protect their skin. The Himba welcome travellers and benefit directly from safaris to the Kaokoland region.