On safari to Namib-Naukluft Park and Sossusvlei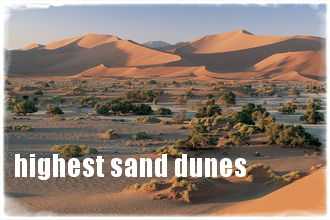 On safari to Namib-Naukluft National Park in Namibia you will see enormous red sand dunes, vast gravel plains, towering mountain ranges and deep sculptured canyons. Covering almost 50,000km2 of remarkable scenery, the Namib-Naukluft National Park is one of the largest conservation areas in Africa and makes an alluring destination for any Namibia safari.

At the centre of the Namib-Naukluft Park, near Sesriem, the ephemeral Tsauchab River valley cuts into the desert to reach Sossusvlei. Along its course the river has carved smooth tunnels from the sandstone, forming the remarkable Sesriem Canyon. Emerging into the desert, the river keeps sand at bay to form a flat avenue, lined by towering apricot sand dunes. A Sossusvlei safari begins with a breathtaking 60km drive that you will never forget. At the end, your Namibia safari guide will lead you on a short walk across the dunes into Sossusvlei and Dead Vlei. Sossusvlei is a clay pan which the ephemeral river fills when in flood, dotted with green camelthorn trees and ringed by graceful curving dunes. Before being cut off by encroaching dunes, the river once flowed into Dead Vlei, a photogenic pan that is now dotted by the tortured limbs of dead camelthorn trees. Many say a safari to this part of Namibia reveals the most breathtaking landscapes they have ever seen.