Our Cultural Adventures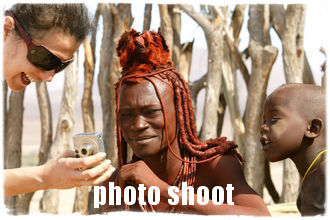 Many of our safari adventures give travellers the chance to get to know people of a different cultural background who are living traditional lives. At each occasion your guide will introduce you to the local community in a sensitive and insightful way. We only work with community development initiatives that are beneficial to both our visitors and their hosts.

Perhaps spend some time at a Himba village in Namibia's northwest. Like East Africa's Maasai, the Himba have a proud culture that they have successfully retained in the face of the modern world. Many adhere to their traditional dress and customs, living in ways that have changed little over the centuries.

Some of our adventures stop at a Nama village. Nama people speak a Khoisan language (with clicks!). Others visit a Bushman project where you learn about the history and traditions of these fascinating people, and how the communities are now adapting to the 21st Century. These are just a few of the possibilities we offer.