Desert Adventure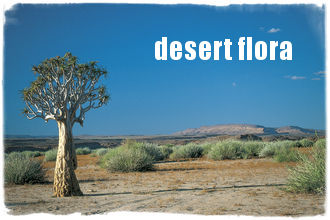 Many adventures to Namibia allow for time to marvel at the largest sand dunes in the world (about 300m high) in the oldest desert in the world, the Namib Desert. Your safari guide will lead you through this beautiful landscape of apricot dunes and silvery pans, pointing out interesting plants and animals as you go.

Each of Namibia's desert areas is different. You can also expect white linear dunes, vast open pans and ghost towns slowly being swallowed by desert sands in the south; vast gravel plains, great escarpments and towering mountain ranges pitted with deep sculpted canyons by as you travel north; and sandstone mountains surrounded by vast plains in the north.

Adrenaline seekers can try various desert adventure activities including sand-boarding and quad-biking amongst the dunes or tandem sky-diving and scenic flights over these desert.

Desert safari adventures are possible in areas of the Kalahari Desert. Spot antelope grazing nutritious grasslands between petrified dunes in Botswana's Central Kalahari Game Reserve or track cheetah in the dune valleys of the Kgalagadi Transfrontier Park.