Safaris to the Okavango Delta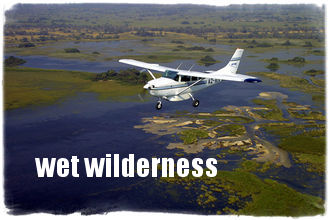 The Okavango River rises in the highlands of Angola, flowing southeast until it finally spreads into Botswana's vast Kalahari Desert. Covering 15,000km2 of land, the Okavango Delta is amongst the richest and most diverse ecosystems in Africa and one of the continent's top safari areas. The flora and fauna is extraordinary: more than 1000 species of plants can be found here, and 400 species of birds call the Okavango Delta their home.

The traditional way to explore the Okavango Delta has always been by mokoro (or traditional dugout canoe) which silently glides through the numerous waterways. In more recent times Botswana safaris take you through the area by vehicle, on foot and by motorboat too.

Protecting the Okavango Delta's amazing environment is the Moremi Game Reserve and, around that, a network of excellent private safari reserves. Some of our comfortable camping and luxury tented Botswana safaris to the Okavango Delta spend time in these private wildlife reserves which, as well as a more exclusive safari experience, have the advantage of allowing you and your guide to drive off road, try a walking safari or take a night drive - activities not usually allowed in the national parks.