On safari to Etosha Park, Namibia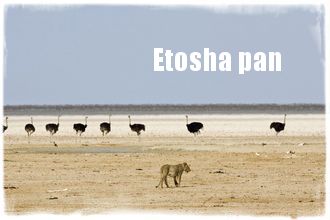 One of Africa's largest and most prolific game reserves, Etosha National Park in Namibia protects 22,270km2 of bush and its wildlife, with the vast Etosha salt pan at its centre.

Throughout most of the year, the numerous waterholes are ideal places to see animals whilst on safari to Etosha National Park. Namibia's predominantly dry climate encourages game to congregate around these water points for their daily drink. Many Namibia safari vehicles have large windows and a pop top roof allowing you great vantage points to observe and photograph wildlife. Whilst on a safari to Namibia, time in Etosha is spent following the rhythm of the animals: rise at dawn to watch them at their most active in the cool morning; relax during the midday heat; and venture out again in the late afternoon.

Much of Etosha National Park's landscape is open savannah, with huge vistas across the pan, so with patience animals can be easy to spot. Most of Africa's big-game species are found here making Namibia a top wildlife safari destination. These include leopard, cheetah, hyena, warthog, elephant, black and white rhino, giraffe, zebra, many species of antelope and a high concentration of lion. Etosha Park also has over 300 species of birds.