Visiting Swakopmund in Namibia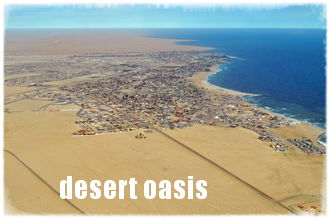 Swakopmund is a quaint coastal town on Namibia's desolate Skeleton Coast, offering a great stop on a Namibia safari between north and southern regions. It lies between the vast gravel plains of the Namib Desert and the cool waters of the Atlantic Ocean. It's a small but lively oasis, with ornate colonial buildings, relatively lush gardens and an attractive palm lined promenade despite its desert setting.

Many camping and lodge safaris to Namibia include time in Swakopmund for its exciting range of coastal and desert activities; fascinating history; interesting museums, reptile park, galleries and aquarium; excellent shops, craft market and restaurants, many serving great seafood. It is considered Namibia's premier seaside 'resort', but it has a relaxed atmosphere and isn't really commercial by Western standards.

Swakopmund activities aren't usually included in the Namibia camping and lodge safari prices, allowing you to choose from the variety of options available. These include sand boarding, quad biking, sky diving, marine boat cruises, fishing, 'Living Desert' tours and scenic flights along the Skeleton Coast. Speak to your Namibia safari guide about the choices and they will help you make bookings. Swakopmund is also a great spot to just relax during your Namibia safari and take a walk along the sandy beach.