On safari to Fish River Canyon, Namibia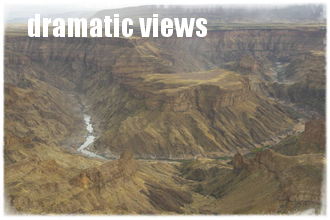 Southern Namibia is home to one of Africa's most impressive yet least visited wonders - the Fish River Canyon. At 161km long, up to 27km wide, and almost 550m at its deepest, the Fish River Canon is probably second in size only to Arizona's Grand Canyon and a spectacular inclusion to any Namibia safari.

At its most famous viewpoint, near Hobas, the arid landscape breaks up and falls away in a series of spectacular cliffs. Camping and lodge safaris to Namibia that include Fish River Canyon often stop here, allowing visitors to walk along the rim, take photos and marvel that this astounding geological feature was carved by the now ephemeral Fish River. The Canyon lies near the southern end of the rivers 600km course, the longest in Namibia.

Although not considered one of Namibia's top wildlife safari destinations as large mammals are not often seen here, there is life in this part of the desert. Travellers on safari to Fish River Canyon may be lucky enough to spot herds of endemic Hartmann's mountain zebra, small groups of kudu, troops of baboons, a pair of diminutive klipspringer antelope or rock hyrax scurrying about the crevices. Even leopard are seen occasionally!